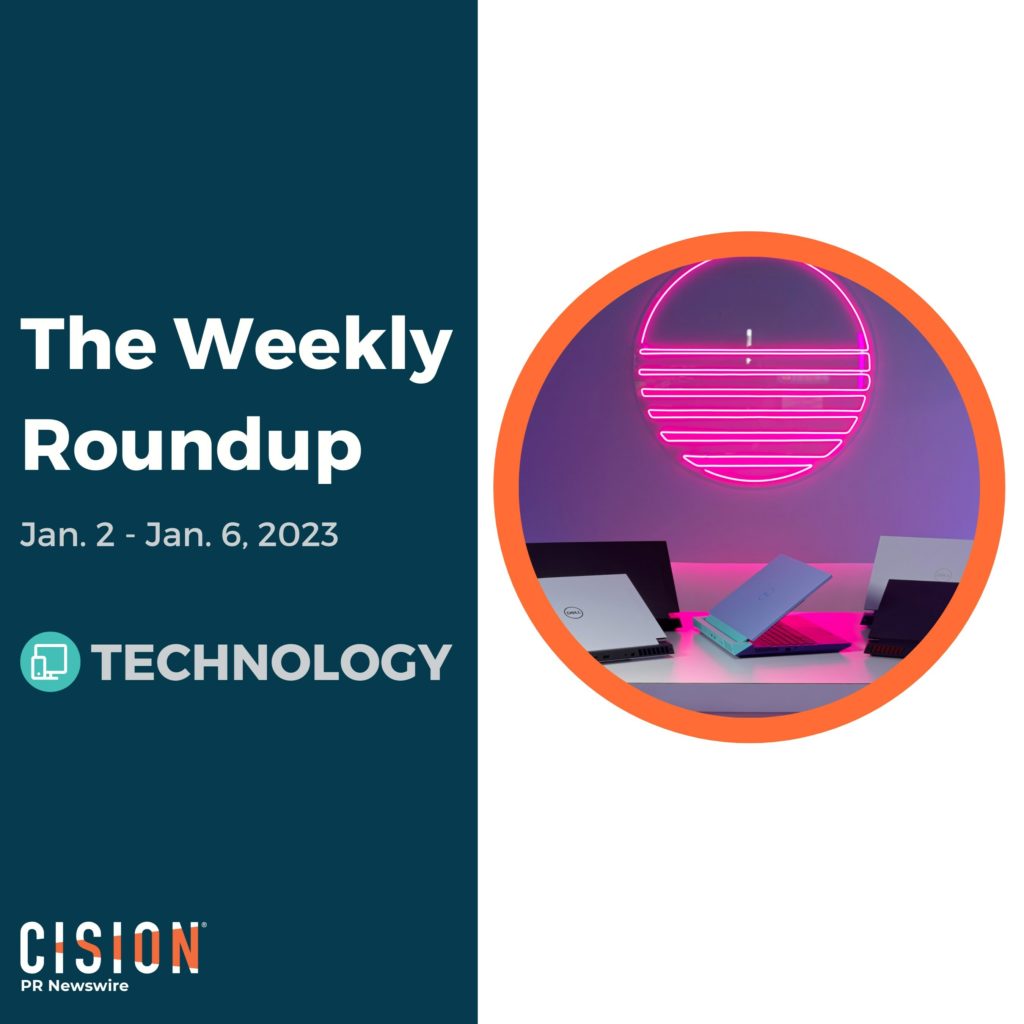 A roundup of the week's most newsworthy technology industry press releases from PR Newswire
 With thousands of press releases published each week, it can be difficult to keep up with everything on PR Newswire. To help journalists covering the business technology industry stay on top of the week's most newsworthy and popular releases, here's a roundup of stories from the week that shouldn't be missed.
The list below includes the headline (with a link to the full text) and an excerpt from each story. Click on the press release headlines to access accompanying multimedia assets that are available for download.
What Not to Miss at CES 2023

Gary Shapiro

, president and CEO, CTA, says, "Tech advances are helping to solve the world's greatest challenges, and CES 2023 will set the agenda for the year ahead."
Dell Technologies Introduces More "World's First" Collaboration ToolsWith more than 50% of employees surveyed rating monitors as the most important device to improve productivity across different workspaces in a recent Dell-Forrester study, our newest additions to the UltraSharp family promise to up-level the performance and experience on which you've grown to depend on.
Arcade1Up Announces First At-Home Casino Gaming Experience with the Renowned Game ShowThe Wheel of Fortune Casinocade Deluxe will make its debut during the Consumer Electronics Show (CES) in

Las Vegas

this week. Arcade1Up will also unveil the Infinity Game Board™, a new take on the company's innovative digital board game, the Infinity Game Table™, and a new flagship design for the company's Legacy line.
Garmin unveils its Unified Cabin Experience at CES 2023The in-vehicle solution with personalized entertainment zones intuitively connects wireless passenger devices to real-time game streams, videos, music, and more.
Ansys Acquires Leading Particle Dynamics Simulation Software RockyWith this acquisition, Ansys adds Rocky, the leading discrete element method (DEM) tool, and a skilled team of developers, application support technicians and customer-facing staff in

Brazil

,

Spain

, and

the United States

.
Edge Impulse and BrainChip Partner to Further AI Development with Support for the Akida platformThis integration will enable users to leverage the power of Edge Impulse's machine learning platform, combined with the high-performance neural processing capabilities of BrainChip's Akida™ to develop and deploy powerful edge-based solutions.
Roborock Debuts All-New Cleaning Systems, Including Roborock S8 Pro Ultra at CES 2023 "The S8 Series uses the most powerful cleaning system we have developed to date on a robot vacuum, paired with the ability to maneuver around objects and maintain itself, customers can now enjoy a more hands-off deep clean than ever before. While the Dyad Pro brings wet-dry cleaning up a notch with unmatched cleaning power, intelligence, and self-maintenance options," says

Richard Chang

, founder and CEO of Roborock.
Alienware Revamps its Iconic Laptop Armada at CES 2023And these aren't small updates either – the roster debuts updated form factors and materials, best-in-class performance upgrades, design and comfort enhancements, as well as an overhauled Alienware Command Center.
Virtualness Wins Exclusive Multi-Year Web3 Deal for End-To-End Rights to Philippine Basketball Association's NFT Digital CollectiblesThe Virtualness platform will enable Philippine Basketball Association (PBA) to design, mint, showcase and sell branded digital collectibles; and to use next-generation technology to connect with Filipino basketball fans across the world in new ways.
CITIZEN Debuts CZ Smart Watch with Proprietary Wellness Software That Anticipates, Learns, and Gets Smarter with the WearerThe CZ Smart YouQ software helps the wearer understand and anticipate patterns of fatigue and alertness and offers customized insights and personalized strategies to build better habits to maximize a wearer's daily potential.
First Apple Computer Trade Sign, Wozniak Tool Box to Be AuctionedThe sign once accompanied company founder

Steve Jobs

at Apple's first trade show, and then was displayed outside the company's

Cupertino, California

headquarters for several years.
Read more of the latest business technology releases from PR Newswire and stay caught up on the top press releases by following @PRNtech on Twitter.
Catch up on the latest CES news from PR Newswire
Searching for even more CES-related news releases? Cision is the official news distribution partner for the event! Check out some of the latest CES headlines sent via PR Newswire.
Helping Journalists Stay Up to Date on Industry News
These are just a few of the recent press releases that consumers and the media should know about. To be notified of releases relevant to their coverage area, journalists can set up a custom newsfeed with PR Newswire for Journalists.
Once they're signed up, reporters, bloggers and freelancers have access to the following free features:
Customization: Create a customized newsfeed that will deliver relevant news right to your inbox. Customize the newsfeed by keywords, industry, subject, geography, and more.
Photos and Videos: Thousands of multimedia assets are available to download and include with your next story.
Subject Matter Experts: Access ProfNet, a database of industry experts to connect with as sources or for quotes in your articles.
Related Resources: Read and subscribe to our journalist- and blogger-focused blog, Beyond Bylines, for media news roundups, writing tips, upcoming events, and more.
About PR Newswire and PR Newswire for Journalists
For more than 65 years, PR Newswire has been the industry leader with the largest, most comprehensive distribution network of print, radio, magazine, television stations, financial portals and trade publications. PR Newswire has an unparalleled global reach of more than 200,000 publications and 10,000 websites and is available in more than 170 countries and 40 languages.
PR Newswire for Journalists (PRNJ) is an exclusive community that includes over 20,000 journalists, bloggers and influencers who are logging into their PRNJ accounts specifically looking for story ideas. PR Newswire thoroughly researches and vets this community to verify their identity as a member of the press, blogger or influencer. PRNJ users cover more than 200 beats and verticals.
For questions, contact the team at media.relations@cision.com.