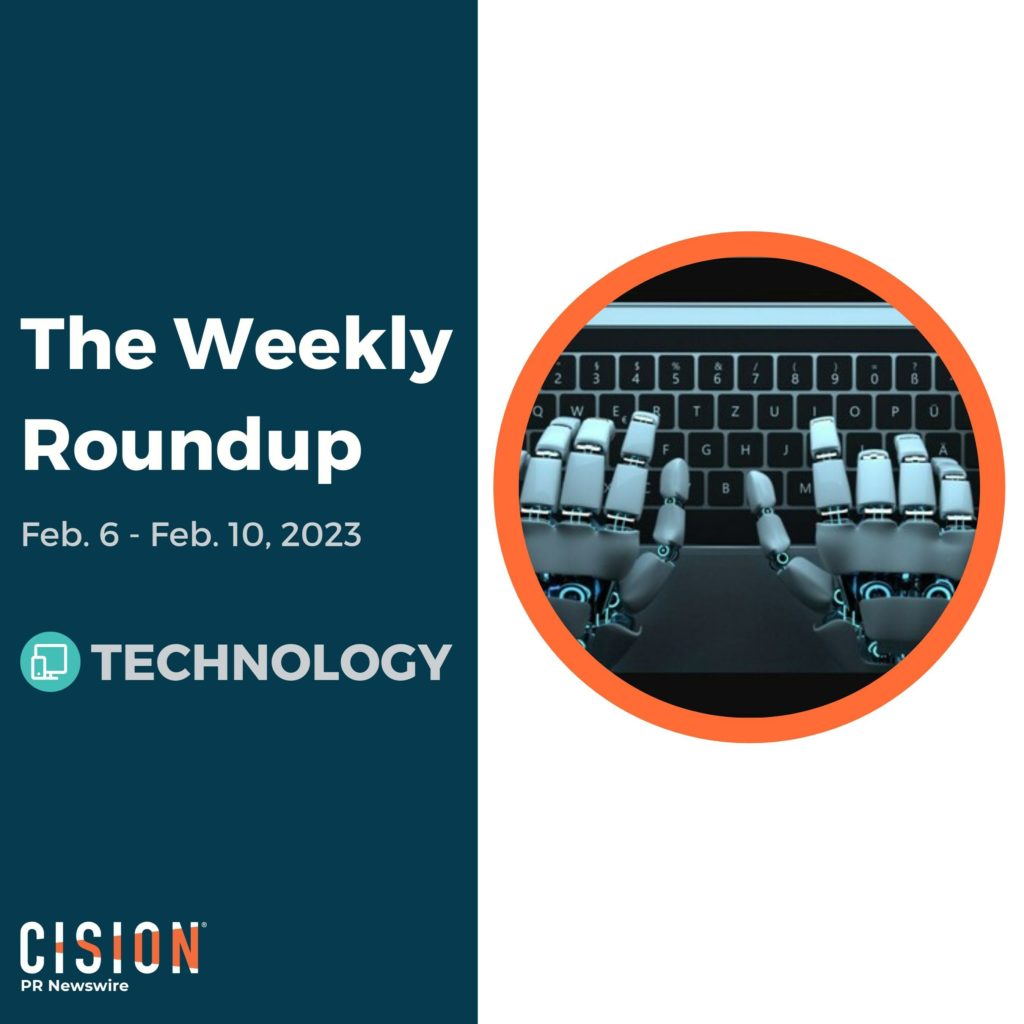 A roundup of the week's most newsworthy technology industry press releases from PR Newswire, including Big Game ad campaigns and a ChatGPT plagiarism tool.
With thousands of press releases published each week, it can be difficult to keep up with everything on PR Newswire. To help journalists covering the business technology industry stay on top of the week's most newsworthy and popular releases, here's a roundup of stories from the week that shouldn't be missed.
The list below includes the headline (with a link to the full text) and an excerpt from each story. Click on the press release headlines to access accompanying multimedia assets that are available for download.
S&P Global and AWS to Pioneer Next Generation Technology for Global Markets Building on AWS and S&P Global's longtime relationship, the new strategic collaboration will extend the delivery of advanced, secure, cloud-based services to more than 100,000 of S&P Global's government and enterprise customers in 43 countries around the world—further growing the 65% of application workloads it already runs on AWS.
Snapple® Launches fAIct Generator Powered by Technology from ChatGPT Creator OpenAI The Snapple fAIct Generator, powered by technology from ChatGPT creator OpenAI, allows users to create and share facts via social media. Whether looking for a fact about a Snapple flavor, doughnuts, music, or our favorite furry friend, ChatGPT has got you covered.
Quantum Computing Inc. Receives Subcontract Award to Support NASA to Test Quantum Sensing Solutions for Monitoring Climate Change Under the subcontract, QCI will test an existing LiDAR system designed to remotely measure the physical properties of different types of snowpacks, including the density, particle size and depth, based on a recent breakthrough theory. The measurements from these tests will be used to calculate how much water could be released when snow melts and could be used for other similar predictive analyses.
Iconic Rock Stars Remind Workday and the Corporate World Who the Real Rock Stars Are Punk rock icon

Billy Idol

said members of the Rock & Roll community were disheartened by the flagrant proliferation of the term "rock star" in emails, pings, and meetings.
OnePlus Welcomes 2023 with the Launch of Three Flagship Products in the U.S. and

Canada

Embodying OnePlus' 'Never Settle' motto, the latest products are distinguished by purposeful designs, industry-leading technology, and advanced interconnectivity with the brand's ecosystem.
New Booking.com Ad Campaign with Actress & Producer Melissa McCarthy Aims to Inspire Travelers to Book "Somewhere, Anywhere" The comedic spots, which include cameos by Melissa's husband, American actor, comedian and filmmaker

Ben Falcone

, focus on how Booking.com makes booking a trip easy, reliable and fun, with the widest choice of places to stay.
2022 NFL Season Viewership: What Was the Impact of Thursday Night Football's Shift to Streaming?

Thursday Night Football audiences were down significantly in 2022 after shifting exclusively to streaming, with average audience and weekly reach declining 37% and 49%, respectively, versus games in 2021 that were available across multiple major video platforms.

Anthropic Forges Partnership With Google Cloud to Help Deliver Reliable and Responsible AI "AI has evolved from academic research to become one of the biggest drivers of technological change, creating new opportunities for growth and improved services across all industries," said

Thomas Kurian

, CEO, Google Cloud.
ChatGPT Plagiarism – New Tool Lets Teachers Know If AI Wrote a Student Essay The plagiarism tool, aptly named ChatGPT Plagiarism, follows a long-winded discussion at schools and colleges over worries that ChatGPT's capacity to produce essays and assignments on just about any topic could fuel academic fraud and hinder learners.
Infosec Launches New Office Comedy Themed Security Awareness Training Series Set in the backdrop of a hilarious office comedy, Work Bytes features a colorful cast of creative characters, including vampires, pirates, aliens, and zombies. These fantastical and unlikely co-workers encounter and navigate today's most common and complex cybersecurity threats from phishing emails to social engineering scams.
Read more of the latest business technology releases from PR Newswire and stay caught up on the top press releases by following @PRNtech on Twitter.
Can't-Miss Earnings
In addition to these popular releases, several must-read earnings reports crossed the wire this week, including the quarterly results for Lumen Technologies, S&P Global and Aon.
Catch up on all the latest earnings reports here.
Helping Journalists Stay Up to Date on Industry News
These are just a few of the recent press releases that consumers and the media should know about. To be notified of releases relevant to their coverage area, journalists can set up a custom newsfeed with PR Newswire for Journalists.
Once they're signed up, reporters, bloggers and freelancers have access to the following free features:
Customization: Create a customized newsfeed that will deliver relevant news right to your inbox. Customize the newsfeed by keywords, industry, subject, geography, and more.
Photos and Videos: Thousands of multimedia assets are available to download and include with your next story.
Subject Matter Experts: Access ProfNet, a database of industry experts to connect with as sources or for quotes in your articles.
Related Resources: Read and subscribe to our journalist- and blogger-focused blog, Beyond Bylines, for media news roundups, writing tips, upcoming events, and more.
About PR Newswire and PR Newswire for Journalists
For more than 65 years, PR Newswire has been the industry leader with the largest, most comprehensive distribution network of print, radio, magazine, television stations, financial portals and trade publications. PR Newswire has an unparalleled global reach of more than 200,000 publications and 10,000 websites and is available in more than 170 countries and 40 languages.
PR Newswire for Journalists (PRNJ) is an exclusive community that includes over 20,000 journalists, bloggers and influencers who are logging into their PRNJ accounts specifically looking for story ideas. PR Newswire thoroughly researches and vets this community to verify their identity as a member of the press, blogger or influencer. PRNJ users cover more than 200 beats and verticals.
For questions, contact the team at media.relations@cision.com.