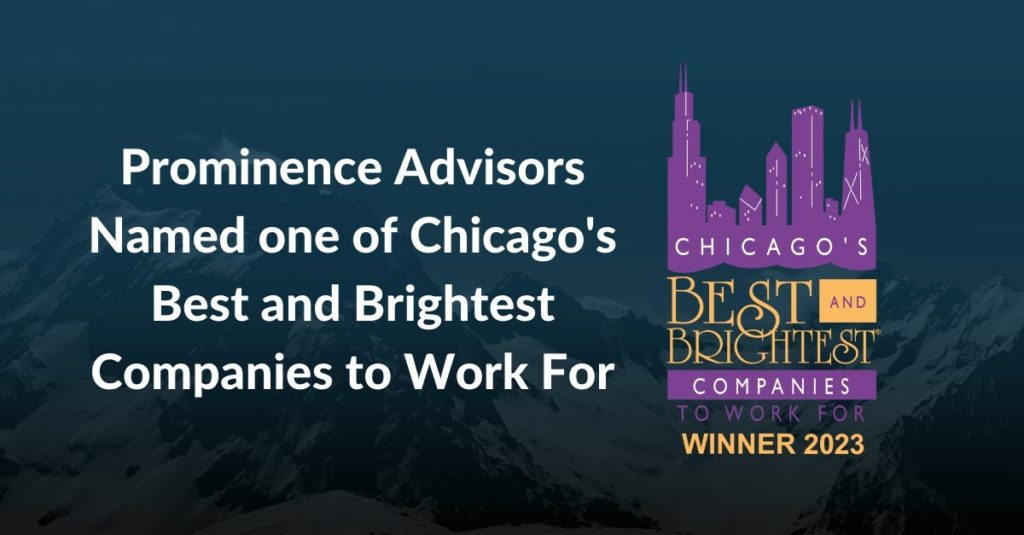 Prominence Advisors was listed on Chicago's Best and Brightest Companies to Work For® in 2023. For a decade, the Chicago-based organization has earned this title for dedication to building a team of individuals who contribute to a strong culture and remain loyal to making healthcare smarter.
Prominence Advisors celebrates winning
Chicago's
Best and Brightest Companies to Work For for 10 years in row!
"We're so proud to be awarded Best & Brightest Company to Work For in Chicago for the tenth year in a row," says Founder & CEO Bobby Bacci. "Prominence is dedicated to helping the nation's leading healthcare organizations do more with their data, and that wouldn't be possible without the incredible talent on our team and the world class culture they foster."
Prominence Advisors commits to excellence by empowering healthcare organizations to do more with their data by improving analytics, data governance, and Epic implementations.
"It's an honor to once again be a Best and Brightest Company to Work For," remarks Austin Montgomery, Prominence's VP of Services. "We're so fortunate to have an incredible team who cares deeply about one another and our customers' success!"
This award marks a decade of Prominence Advisors being one of Chicago's Best and Brightest Companies to Work For®, in addition to winning Best in KLAS for Technical Services in 2023. Prominence Advisors celebrates a decade of success and looks forward to the future!
About Prominence Advisors
Prominence Advisors, named Best in KLAS 2023 Technical Services, helps healthcare organizations do more with their data to make healthcare smarter. Founded by former Epic leaders, Prominence works with more than 80 healthcare organizations across the nation, including 7 of the top 10 hospitals in US News and World Report. Prominence offers award-winning services to healthcare organizations:·
50+ healthcare accelerator templates
Real-time data from Epic, Cerner, and more
$720M+ documented ROI
Expertise in every layer of the data stack·
Align people, processes, and technology
Leverage proven systems and processes
Drive outcomes with use-case based engagement·
Certifications in every Epic module
12+ years average tenure
Fractional and managed service engagement models
About Best and Brightest
Best and Brightest is a community of the nation's leaders and employers of choice who share ideas and practices. Dedicated to providing companies with valuable data, practices, and resources, Best and Brightest analyzes leaders to determine standouts among peer organizations.